Rhinoplasty in Newport Beach
Also known as "nose job" or "nose reshaping," is one of the most common plastic surgery procedures performed worldwide. It is the most complex facial plastic surgery procedure and can produce dramatic results. The goal of rhinoplasty is to improve proportions of the nose while creating better facial harmony. In many cases, nasal breathing is improved due to underlying structural problems.
Why choose Dr. Razfar as your Rhinoplasty Specialist?
Dr. Razfar is one of the few surgeons that has dedicated his career to understanding both the form and function of the nose. He is a rhinoplasty expert in Newport Beach that is Board Certified by both the American Board of Facial Plastic and Reconstructive Surgery and the American Board of Otolaryngology-Head and Neck Surgery. He performs the most advanced rhinoplasty techniques and brings his vast experience to Newport Beach and Orange County.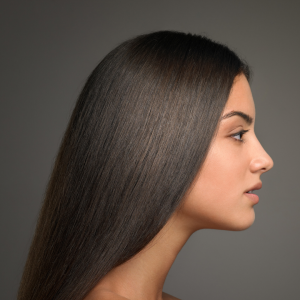 The most common reasons patients undergo rhinoplasty include:
Nose profile with visible bump (dorsal hump)
Nose size out of balance with the rest of the face
Nasal tip that is large with poor definition (bulbous), droopy, or upturned
Wide nose, bridge or nostrils
Nasal asymmetry or crooked nose
Difficulty breathing secondary to structural issues inside the nose (deviated septum, small internal nasal opening)
Visible deformity from prior nasal trauma
Dr. Razfar's Approach to Rhinoplasty
Dr. Razfar customizes each rhinoplasty surgery to suit the patient's individual needs. Many patients wish to have a subtle refinement of their existing features while some may want a more dramatic change. Furthermore, many factors to consider include ethnic background, skin type, prior surgery or trauma. A detailed medical history can help assess functional components including allergies or sinus issues as well. Given his unique expertise and experience, Dr. Razfar can address both cosmetic and functional issues related to the nose.
Historically, rhinoplasty surgeons would perform the same procedure on every patient often ignoring unique expectations and features of each patient. The ethnic background as well as facial proportions were not taken into account when creating a surgical plan. This "cookie cutter" approach would often result in an operated look that lacked balance with the rest of the face. These patients were not only left with cosmetic deformities but also had significant functional problems.
Consultation Process
During your Newport Beach Rhinoplasty consultation, Dr. Razfar will listen to your specific wishes and understand your motivation for surgery. Each patient has a different idea of what an ideal nose is and clear communication is important throughout the consultation process. It is not uncommon to have multiple clinic visits prior to surgery to create the appropriate operative plan. He will thoroughly examine your nose inside and out to assess for functional problems.  Photos will be taken and imaging software is often used to simulate possible surgical outcomes.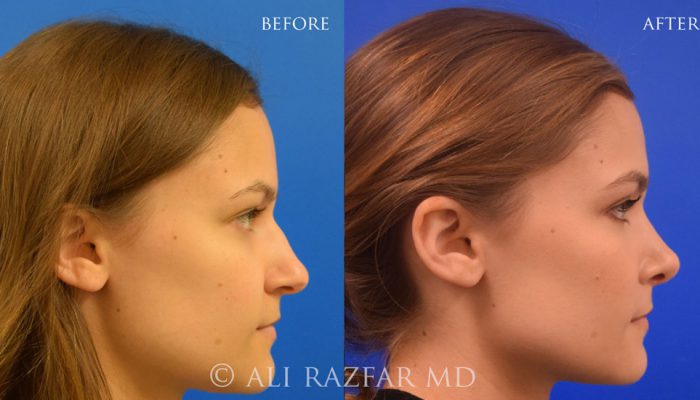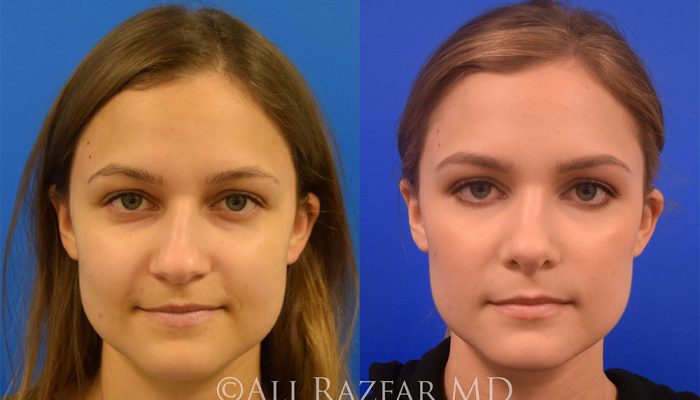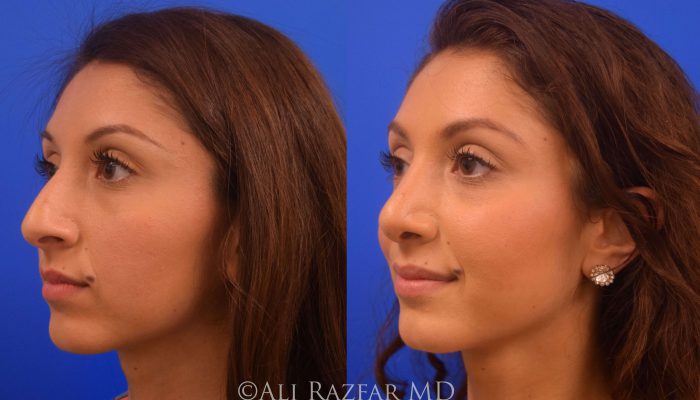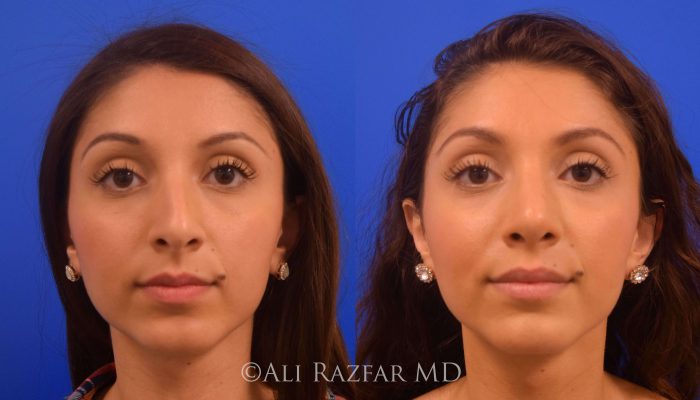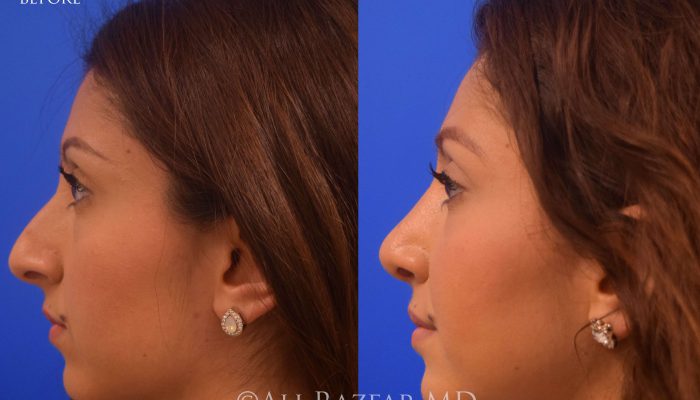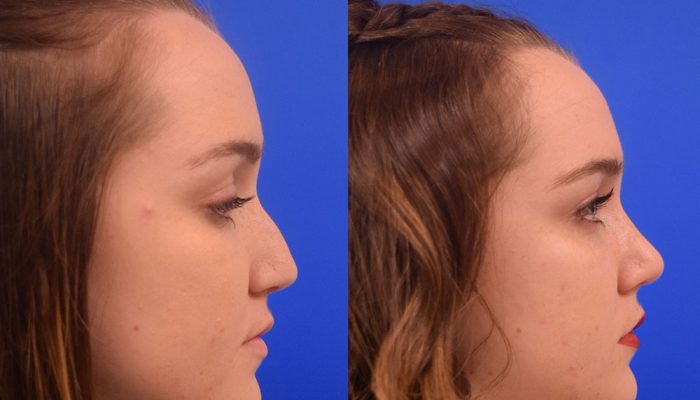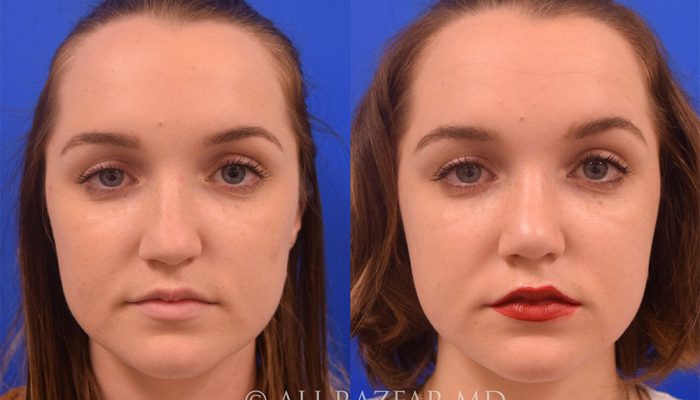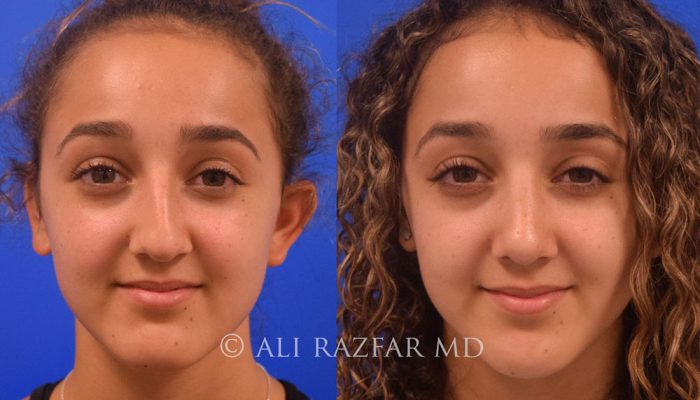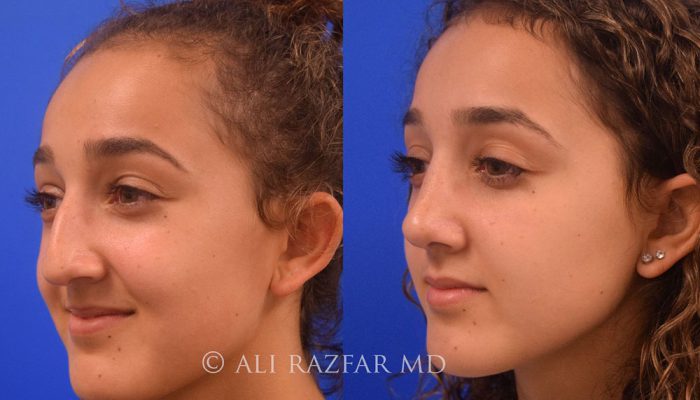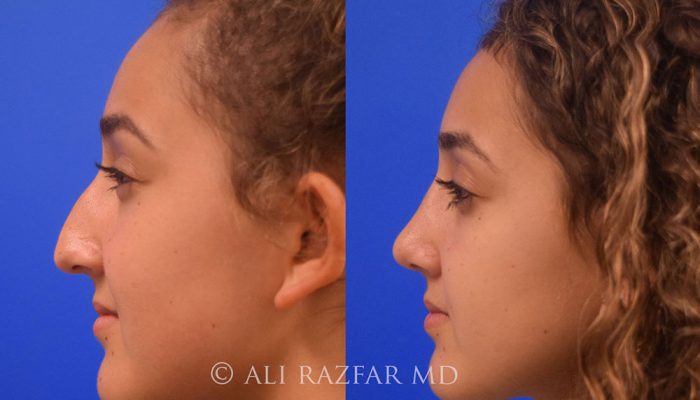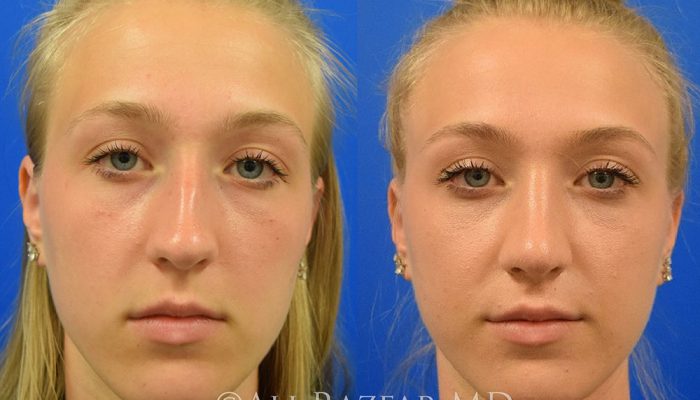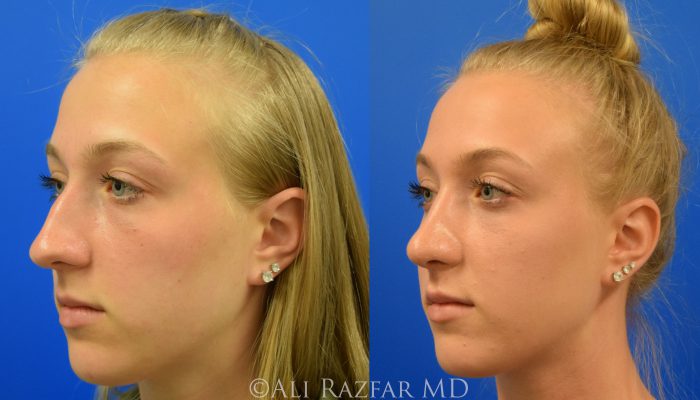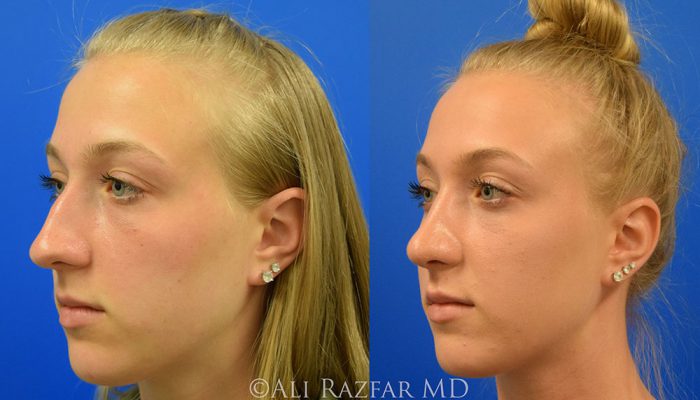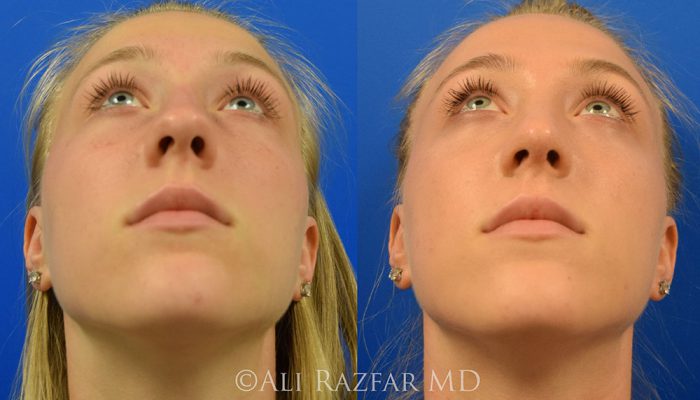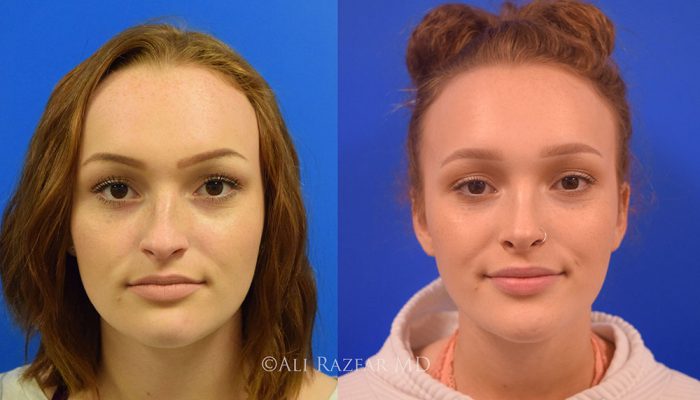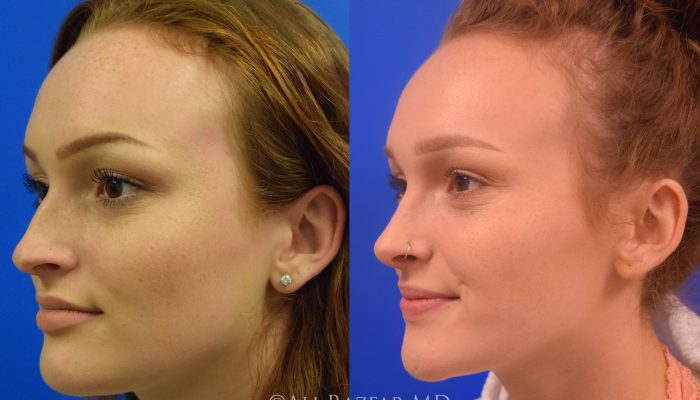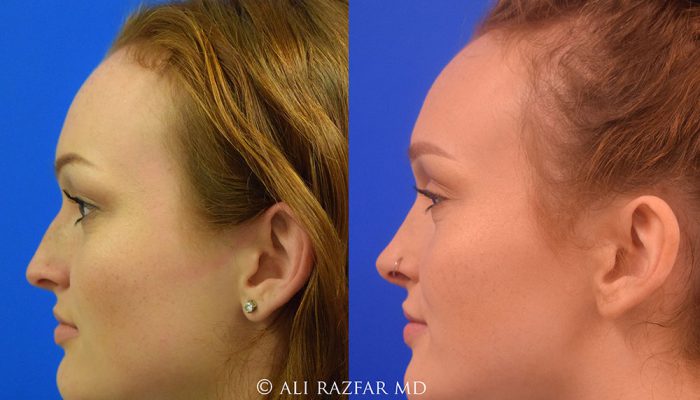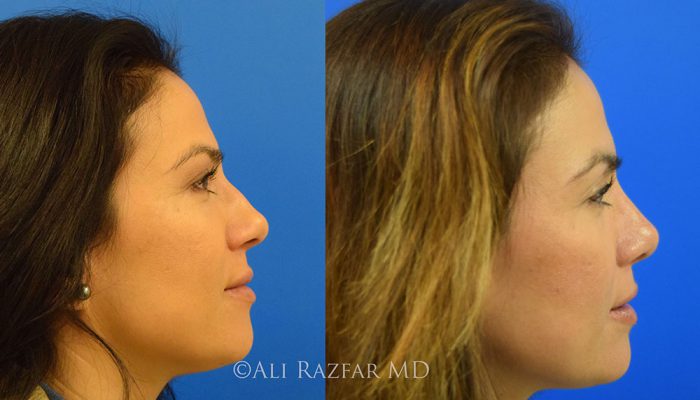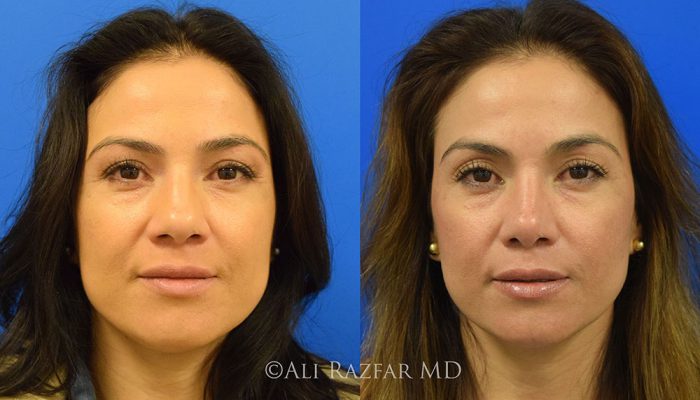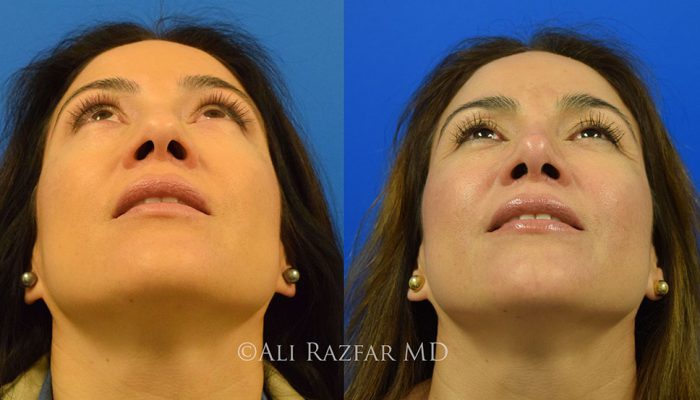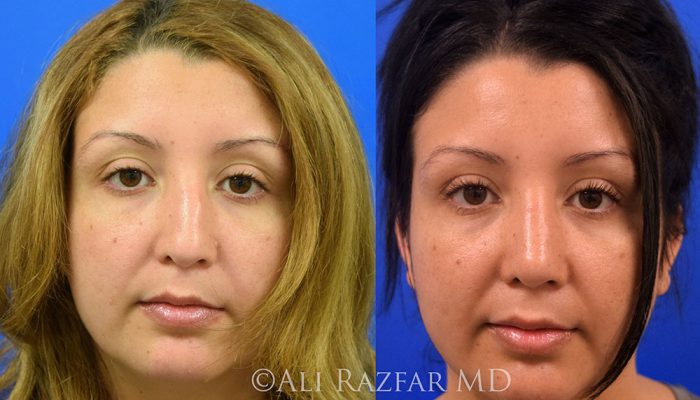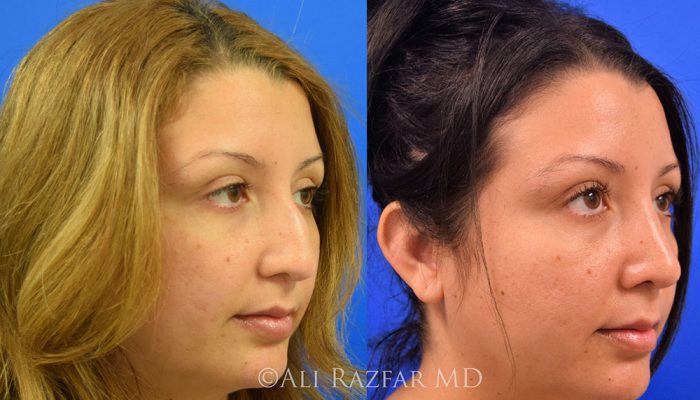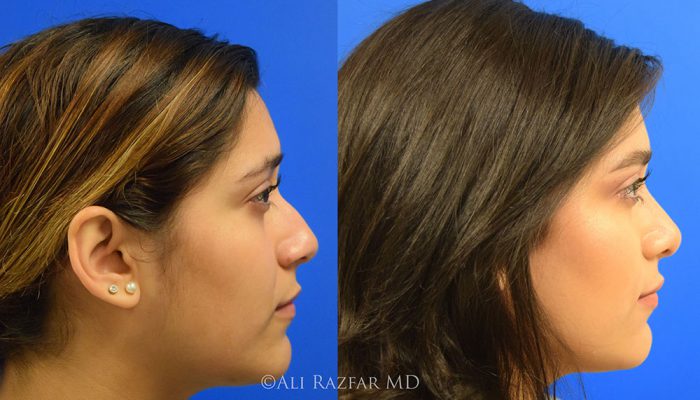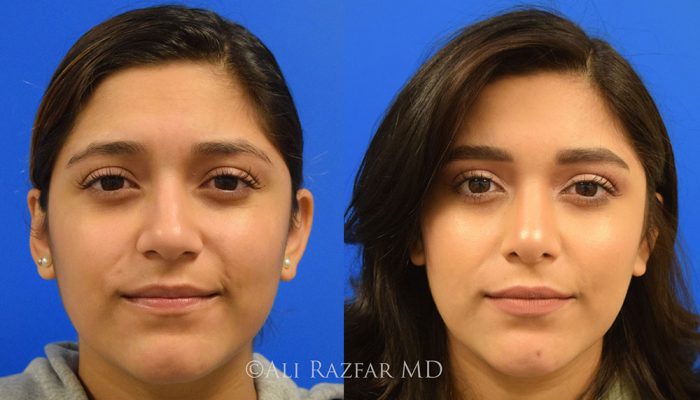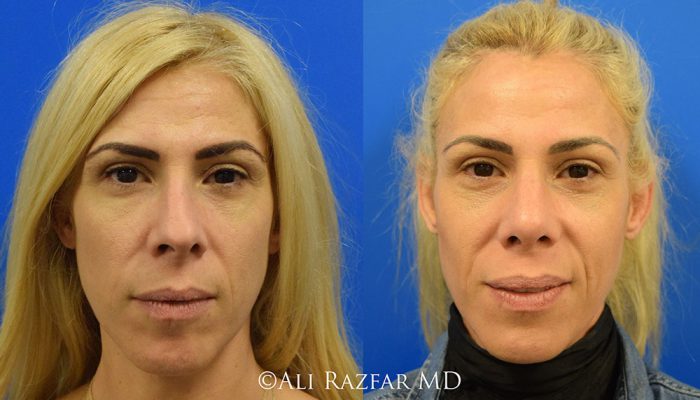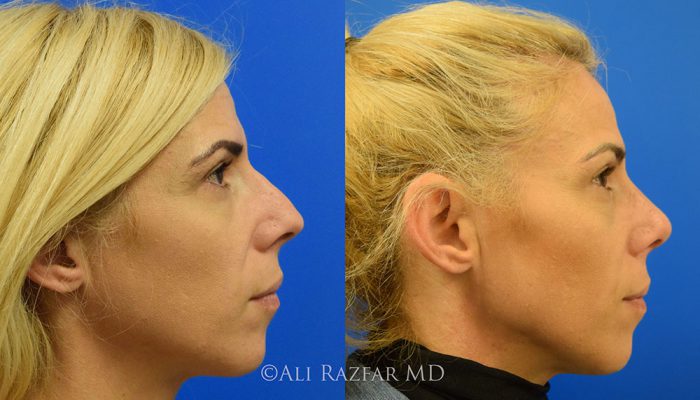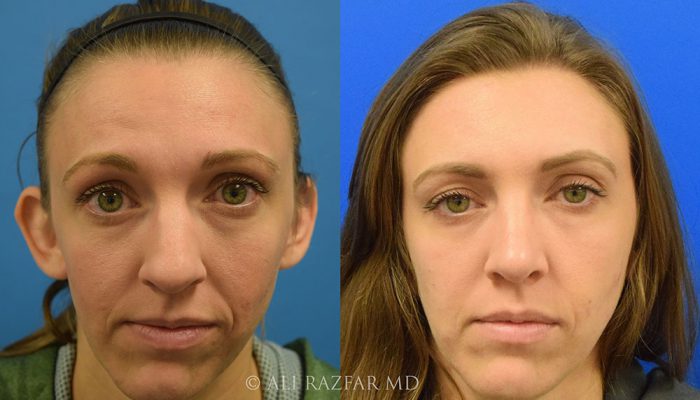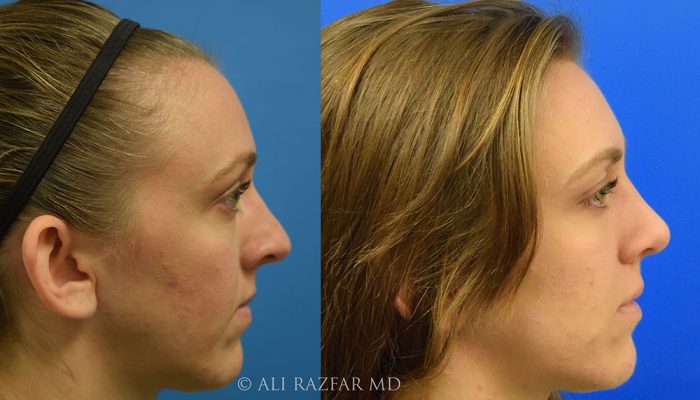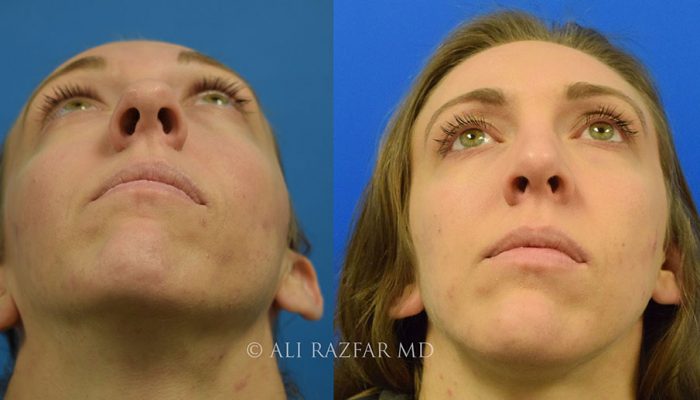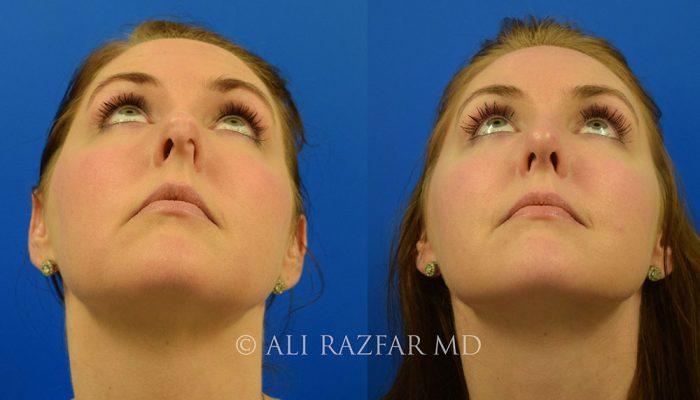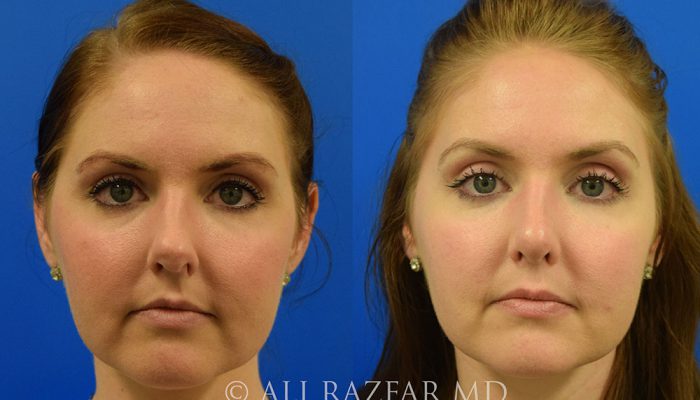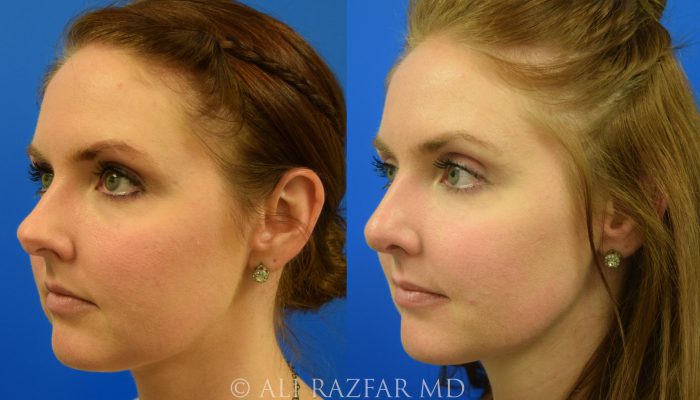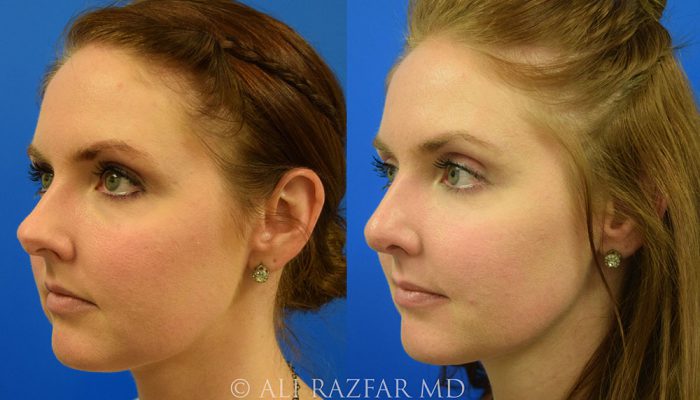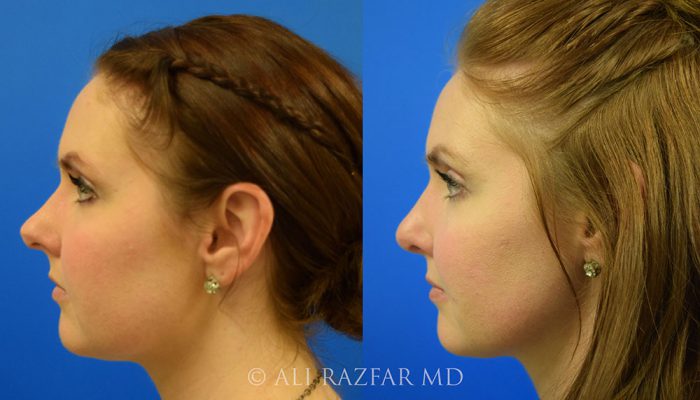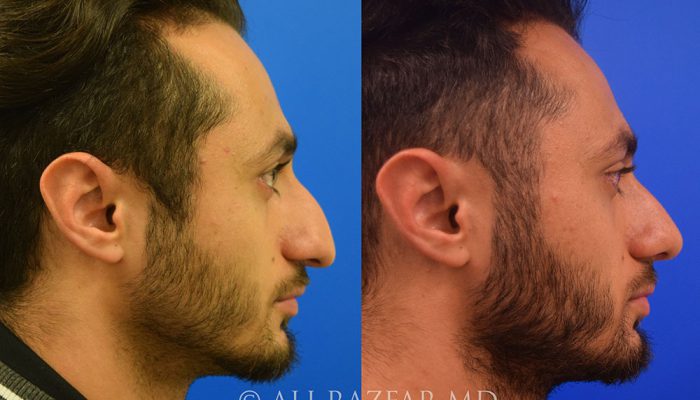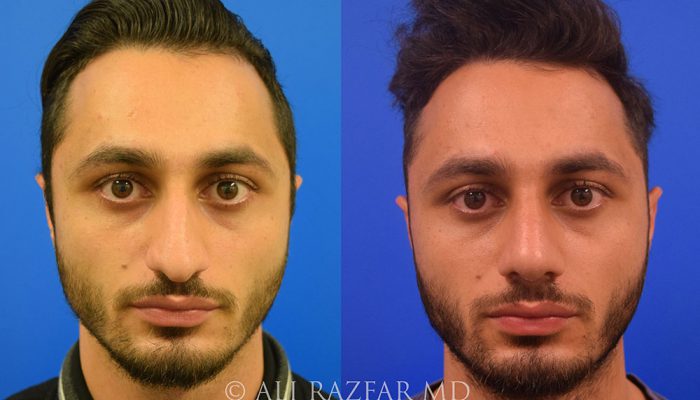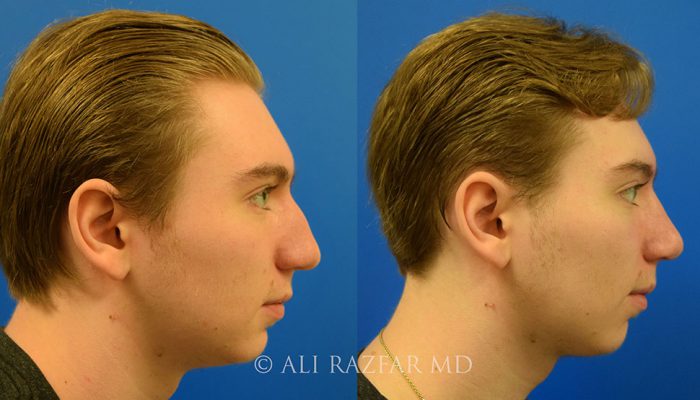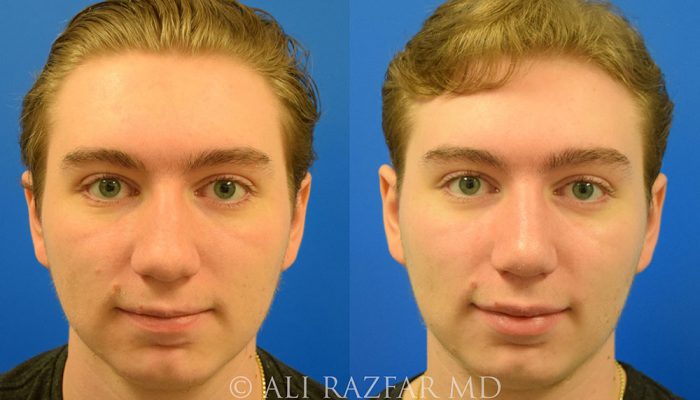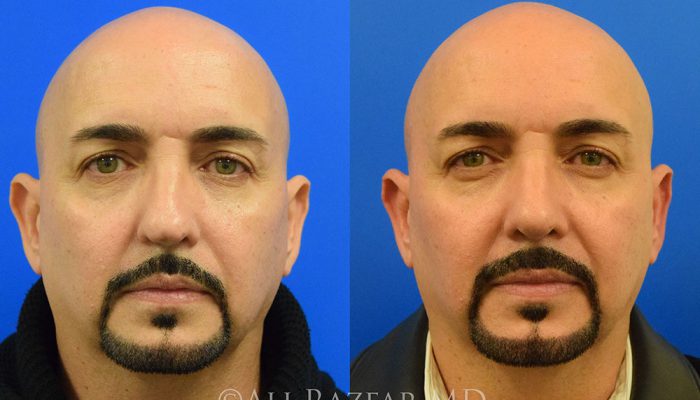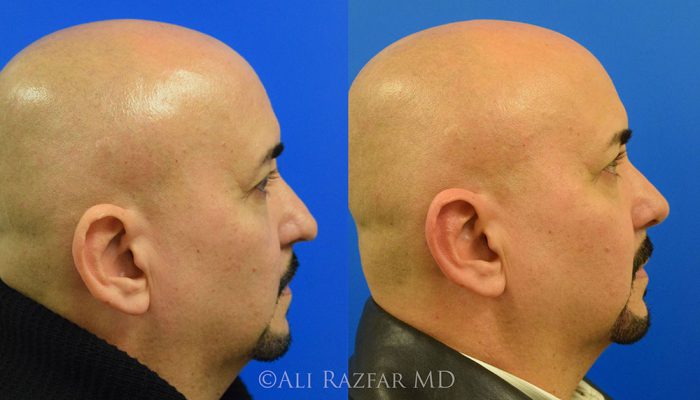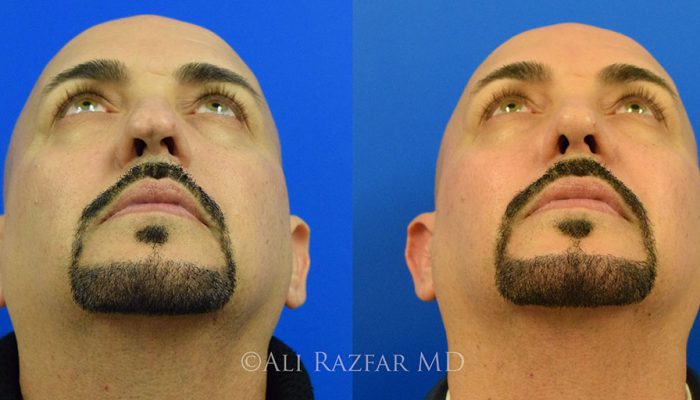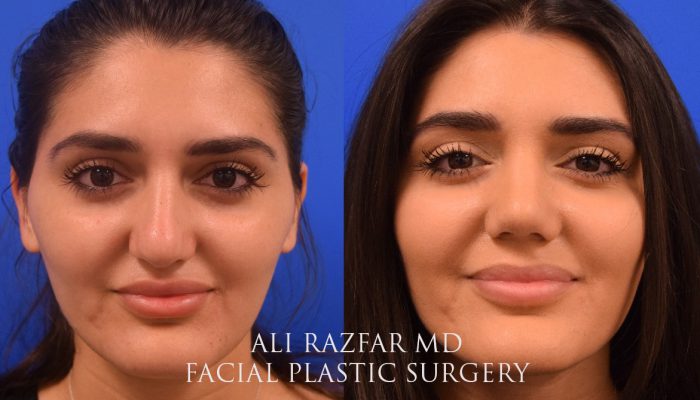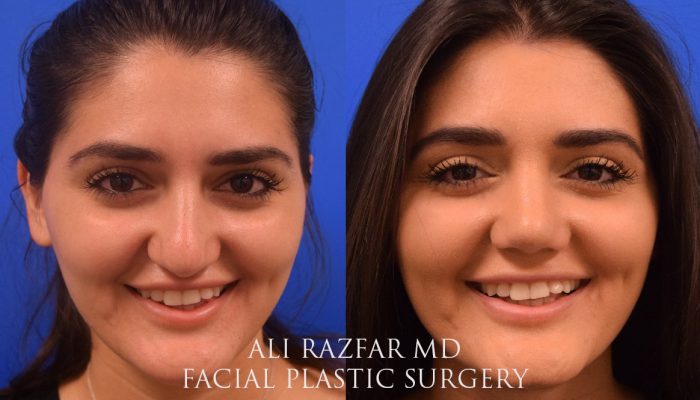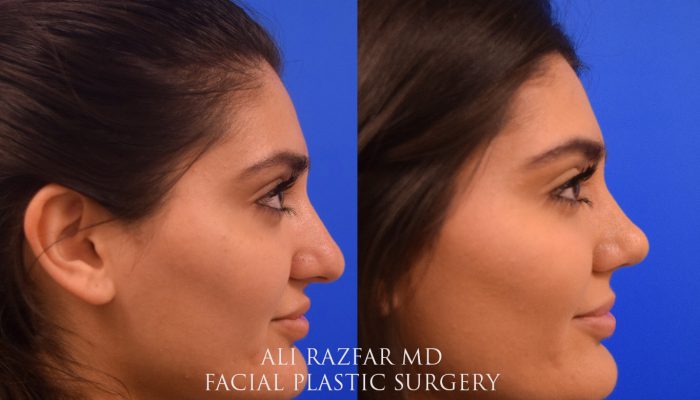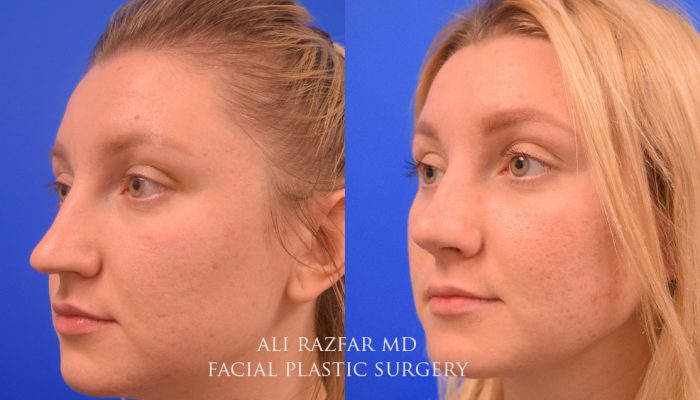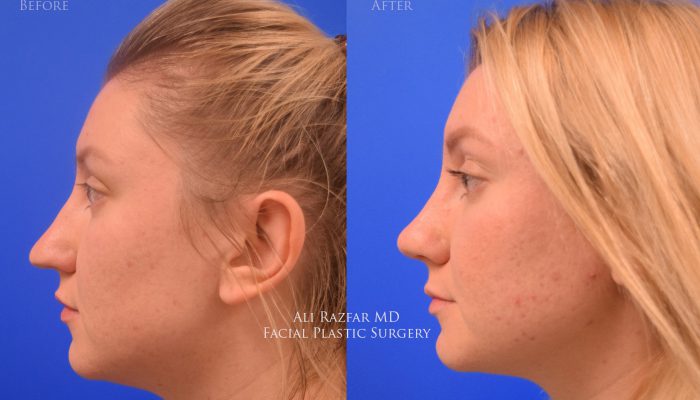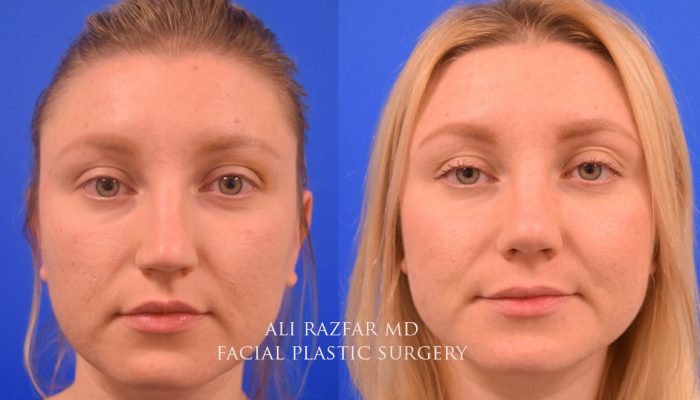 Frequently Asked Questions
There are generally two different approaches used in rhinoplasty surgery. Dr. Razfar has expertise in both the open and closed approach. Subtle enhancements can often be accomplished with the closed (endonasal) approach resulting in no external scar while more involved procedures require the open approach. While the open approach does result in a small scar in the columella, this is nearly invisible after a few months with proper closure technique.
Most patients will feel congested after surgery and have some discomfort that is relieved with mild narcotic pain medications. Patient will have a cast on their nose and in some cases, small plastic splints inside the nose. These are removed after one week. Some patients may experience bruising that can last 1-2 weeks. The swelling is most severe for the first 3-4 weeks after surgery. There is typically mild swelling, particularly at the tip, for up to one year after surgery.
Patients can often return to work once the cast and splints are removed about 1 week after surgery. If your work requires heavy lifting or strenuous physical activity, you will need an additional 2-3 weeks off.
Strenuous activity should be avoided for 1 month after surgery. Very light exercise such as walking can begin 2 weeks after surgery. Any activity that can cause trauma or risk bumping the nose should be avoided for at least 2 months.
Dr. Razfar generally does not pack the nose as this causes unnecessary discomfort during the recovery period. You may have plastic splints inside the nose to aid in healing. Patient can generally breath through their nose with splints in place although it may feel congested.
If you have breathing problems or prior nasal trauma, the insurance will generally cover the functional aspect of the rhinoplasty. However, the cosmetic portion of the procedure is generally not covered.